MY LAST CHAPTER
I lived a full life; Iíve lived full-out, mostly as a drifting stranger on a planet where others were at home. In my 73 years, I can count 48 different home addresses, in many states, from Northport, Michigan to Costa Mesa, California; from Eagle, Alaska to Cape Coral, Florida. Iíve had many careers: Engineering draftsman, Lutheran minister, Lockheed Administrator, Field Rep. for Lockheed in California, Apartment complex maintenance man, carpenter, civil engr. draftsman, Ramada Inn hotel maintenance, Anchorage city police officer, restaurant owner in Florida, clinical hypnotist, cartographer, big-rig truck driver in Texas, and probably some which I canít remember right now. I did three years in USAF in Japan where I learned the language and travelled some. I was in an MGM movie, "The Last Voyage." Iíve owned my own airplane, N125HK; I have a commercial pilot license. I lived on my sailboat, Iwalani, in Florida for a year or so. I owned several motorcycles over the years, my favorite being a Yamaha VMax. Iíve built log cabins in Nabesna, Alaska, and Yaak, Montana. I built a cabin on a mountaintop near Eagle, Alaska where the caribou herds winter. I put more than eleven thousand miles on my snow-machine in the arctic winters of Alaskaís interior. Iíve shot many caribou, moose, and several bears, one grizzly. Lisa and I enjoyed many weekends aboard our powerboat in Prince William Sound, Alaska where we awoke one morning to the sound, and smell, of a spouting humpback whale taking a look at us. Then there were adventures on the Yukon River, and there was our small sailboat in San Francisco Bay, and fishing halibut off Homer, Alaska. Whew, what an adventure this life has been!
Well, those are things which come to mind this morning while reminiscing.
In January 1990, I had a motorcycle accident in Newport Beach, California which resulted in a crushed left leg and brain trauma. The right-parietal region of my brain is now scar tissue; memory and evaluation ability is terribly impaired. I could no longer do the computer drafting/design work which I was doing at that time, so the company disability insurance kicked in and I was retired at 51 years. We moved to Montana where we separated for a while; I built a log cabin in the Yaak wilderness. In 1992 I moved to Leadville, Colorado where Lisa and I reunited. In May of 1993 I left her in Leadville while I drove to Alaska where I found a small cabin to rent in Eagle, on the Yukon River. June 1995 Lisa rejoined me in Eagle, where we bought a one-room log cabin at the edge of town. We got electricity from the diesel generator in that small village; we had a phone, but I hauled water from American Creek about a mile from us. It was in that cabin that I began to study and write seriously. I wrote a book about "Christís New Covenant," a contract which Christian religionists donít recognize as the very foundation of oneís personal relationship with God. Then I wrote a translation and commentary on the book of Revelation, along with many other articles. In 1999 Lisa ordered a Folk Harp which she then learned to play. I built a cabin that fall on American Summit, 17 miles south of Eagle, where I could spend days or weeks in arctic winter solitude. I named the cabin Olympus; I was at the top of the world!
Ahhh, as I write about the Olympus cabin, my eyes begin to water a little and Robert Serviceís poem, The Spell of the Yukon, floats across my mind. Part of it goes:
"The winter! the brightness that blinds you, the white land locked tight as a drum, The cold fear that follows and finds you, the silence that bludgeons you dumb. The snows that are older than history; the woods where the weird shadows slant, The stillness, the moonlight, the mystery; Iíve bade Ďem goodbye ó but I canít. Thereís a land where the mountains are nameless; the rivers all run, God knows where . . ."
Here is a picture of my Olympus cabin on American Summit. The stalactites are stunted timberline black spruce trees, loaded with hoarfrost. Winter temps are between minus 30F and minus 60F. Mountaintop high winds are the norm. Daylight is a brief period around noon. Whiteout conditions are frequent, necessitating the reflector posts at about fifty feet spacing, but I have still gotten lost on the snowmachine. The Canadian Ogilvie mountains are in the background.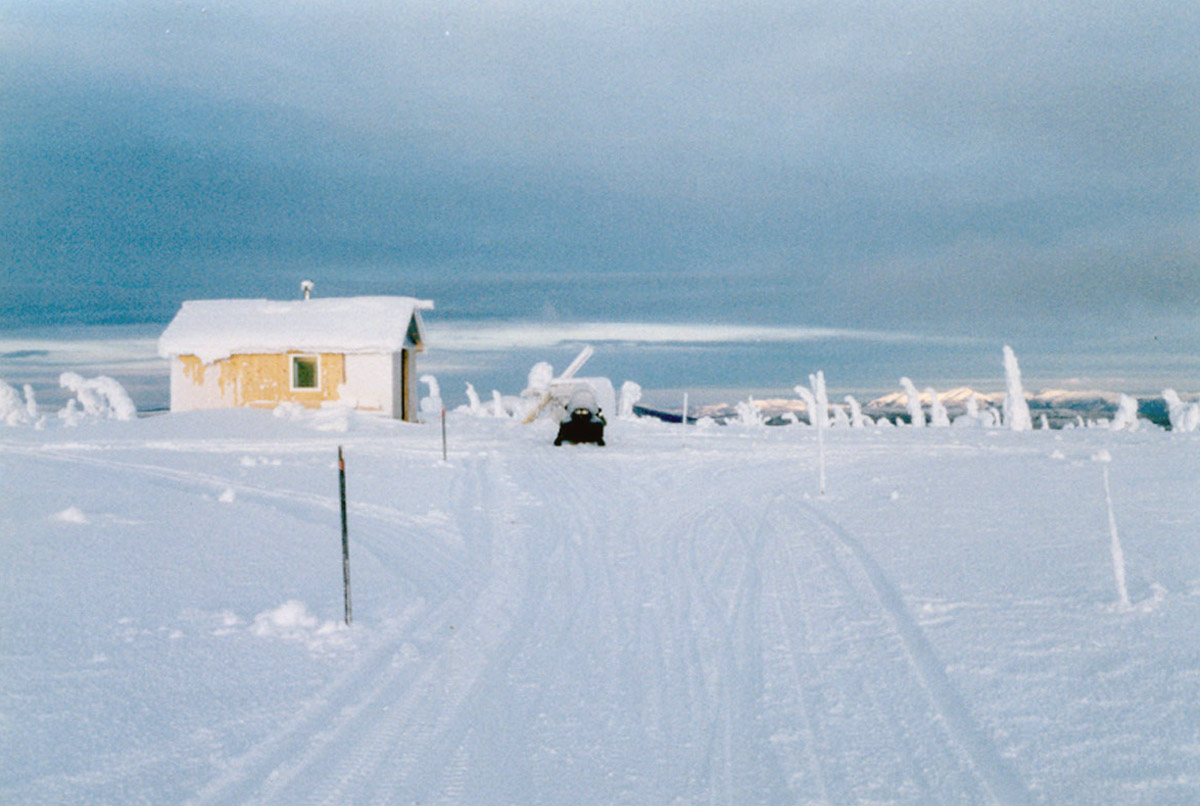 Iíve LIVED; Iíve truly lived, full out, pedal to the metal, all the way. Iím also reminded of Tennysonís ULYSSES, which I had memorized years ago when I had that ability. I identify very much with Homerís Odysseus, and Iíve lived my life as though God sat on Olympus watching this child so desperately challenging the margins. Tennyson's hero says it this way: "I am a part of all that I have met; Yet all experience is an arch wherethrough Gleams that untravelled world, whose margin fades For ever and for ever when I move."
There, THAT is the life which I want to offer back to my Father who experienced it through me. It was His power, His guidance, His love which empowered my life; I did my best, and I want to credit it to Him as my Offering.
August 2002, Lisa and I left Eagle, Alaska to settle in a warmer climate. In December, we bought an old farm place in the Appalachian mountains coal mining region, a depressed, Dogpatch type of country. I fenced a few acres and in June 2004 we bought a Jersey milk cow which I named Pretty Girl. I milked her twice daily and we made buttermilk, butter, and cheese along with that wonderful sweet cream. We had her until April 2008; she was one of the great joys of my life. We have a furnace which burns wood, so each summer I must gather a few cords of firewood to get us through the winter. Our monthly social security checks get us the few groceries we need, so we are content here. Our 1995 Olds Cutlass carries us to town, 8 miles away, about once each week or so. We don't go anywhere else.
Since my eyesight is now deteriorating, I recently sold most of my large library. On the computer, I can enlarge typesize so that I can still read on my large screen monitor. I could have cataract surgery, but I donít want that. Rather would I share the aging experience of my ancestors over thousands of years when failing vision forced their minds to turn inward. Old age can make one a mystic. That seems to be part of Godís Design, and therefore, something I want to experience for myself.
But, I might offer this life up to my Father even before my vision fails completely. I want to do it while I am still vibrant and capable. I wrote this page as the Last Chapter of my life. At its end, I am happy, excited, and pleased to reminisce. One great adventure awaits me; I want to leap through that open door into the glorious presence of the Almighty God whom I have tried to represent. "O death, where is thy sting; O grave, where is thy victory?" The greatest thrill of all is at hand! I am euphoric with anticipation.
by Roger Hathaway, January 23, 2012 RETURN TO "GOING HOME"